THE MENU
---
---
---
SIGN THE BILLY WRIGHT MEMORIAL BOOK
---
---
---
1 2 3 4 5 6 7 8 9 10 11 12 13 14 15 16 17 18 19 20 21 22 23 24 25 26 27 28 29 30 31 32 33
---
HOW TO ORDER THE BOOK AND GET A UNIQUE FREE SOUVENIR
---
---
---
---
HOW WELL DO YOU KNOW BILLY WRIGHT? TEST YOURSELF HERE
---
Please note that this website is still under construction. Please return regularly to monitor its growth. But before you go, pay your tribute to the memory of Billy Wright by going HERE. Thank you.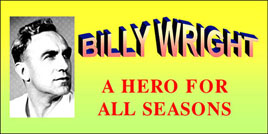 Thank you for visiting this Billy Wright website that has been set up as a cyber monument to a football hero for all seasons. Billy led Wolves through their golden years of the 1950s, and was the first footballer in the world to win 100 international caps. He captained England 90 times, a record later equalled by Bobby Moore. Included in his 105 appearances was a remarkable sequence of 70 consecutive matches – a record of consistency unlikely ever to be surpassed.
YOU can play a part in a lasting tribute to Billy. I have a book coming out later this year about our hero's life and times. Published by Robson Books, it is an authorised biography that has been written with the encouragement and support of Joy Wright, Billy's widow and famous as one of the singing Beverley Sisters. I want the supporters, the most important people in Billy's football world, to have a say in the book. Please go HERE for full details of how you can join in the tributes.
My name is Norman Giller, and you can learn more about me and my relationship with Billy by going to THIS page where you can read an edited version of the introduction to the Billy Wright book.
---
PLACE YOUR